Drug Use
The functions of psychotropic drugs
To consider drugs only as medicinal agents or to insist that drugs be confined to prescribed medical practice is to fail to understand human nature. The remarks of the American sociologist Bernard Barber are poignant in this regard:
Not only can nearly anything be called a "drug," but things so called turn out to have an enormous variety of psychological and social functions—not only religious and therapeutic and "addictive," but political and aesthetic and ideological and aphrodisiac and so on. Indeed, this has been the case since the beginning of human society. It seems that always and everywhere drugs have been involved in just about every psychological and social function there is, just as they are involved in every physiological function.
Popular misconceptions
Common misconceptions concerning drug addiction have traditionally caused bewilderment whenever serious attempts were made to differentiate states of addiction or degrees of abuse. For many years, a popular misconception was the stereotype that a drug user is a socially unacceptable criminal. The carryover of this conception from decades past is easy to understand but not very easy to accept today. A second misconception involves the ways in which drugs are defined. Many substances are capable of acting on a biological system, and whether a particular substance comes to be considered a drug of abuse depends in large measure upon whether it is capable of eliciting a "druglike" effect that is valued by the user. Hence, a substance's attribute as a drug is imparted to it by use.
Caffeine, nicotine, and alcohol are clearly drugs, and the habitual, excessive use of coffee, tobacco, or an alcoholic drink is clearly drug dependence if not addiction. The same could be extended to cover tea, chocolates, or powdered sugar, if society wished to use and consider them that way. The task of defining addiction, then, is the task of being able to distinguish between opium and powdered sugar while at the same time being able to embrace the fact that both can be subject to abuse. This requires a frame of reference that recognizes that almost any substance can be considered a drug, that almost any drug is capable of abuse, that one kind of abuse may differ appreciably from another kind of abuse, and that the effect valued by the user will differ from one individual to the next for a particular drug, or from one drug to the next drug for a particular individual. This kind of reference would still leave unanswered various questions of availability, public sanction, and other considerations that lead people to value and abuse one kind of effect rather than another at a particular moment in history, but it does at least acknowledge that drug addiction is not a unitary condition.
Physiological effects of addiction
Certain physiological effects are so closely associated with the heavy use of opium and its derivatives that they have come to be considered characteristic of addictions in general. Some understanding of these physiological effects is necessary in order to appreciate the difficulties that are encountered in trying to include all drugs under a single definition that takes as its model opium. Tolerance is a physiological phenomenon that requires the individual to use more and more of the drug in repeated efforts to achieve the same effect. At a cellular level this is characterized by a diminishing response to a foreign substance (drug) as a result of adaptation. Although opiates are the prototype, a wide variety of drugs elicit the phenomenon of tolerance, and drugs vary greatly in their ability to develop tolerance. Opium derivatives rapidly produce a high level of tolerance; alcohol and the barbiturates a very low level of tolerance. Tolerance is characteristic for morphine and heroin and, consequently, is considered a cardinal characteristic of narcotic addiction. In the first stage of tolerance, the duration of the effects shrinks, requiring the individual to take the drug either more often or in greater amounts to achieve the effect desired. This stage is soon followed by a loss of effects, both desired and undesired. Each new level quickly reduces effects until the individual arrives at a very high level of drug with a correspondingly high level of tolerance. Humans can become almost completely tolerant to 5,000 milligrams of morphine per day, even though a "normal" clinically effective dosage for the relief of pain would fall in the range of 5 to 20 milligrams. An addict can achieve a daily level that is nearly 200 times the dose that would be dangerous for a normal pain-free adult.
Tolerance for a drug may be completely independent of the drug's ability to produce physical dependence. There is no wholly acceptable explanation for physical dependence. It is thought to be associated with central-nervous-system depressants, although the distinction between depressants and stimulants is not as clear as it was once thought to be. Physical dependence manifests itself by the signs and symptoms of abstinence when the drug is withdrawn. All levels of the central nervous system appear to be involved, but a classic feature of physical dependence is the "abstinence" or "withdrawal" syndrome. If the addict is abruptly deprived of a drug upon which the body has physical dependence, there will ensue a set of reactions, the intensity of which will depend on the amount and length of time that the drug has been used. If the addiction is to morphine or heroin, the reaction will begin within a few hours of the last dose and will reach its peak in one to two days. Initially there is yawning, tears, a running nose, and perspiration. The addict lapses into a restless, fitful sleep and, upon awakening, experiences a contraction of pupils, gooseflesh, hot and cold flashes, severe leg pains, generalized body aches, and constant movement. The addict then experiences severe insomnia, nausea, vomiting, and diarrhea. At this time the individual has a fever, mild high blood pressure, loss of appetite, dehydration, and a considerable loss of body weight. These symptoms continue through the third day and then decline over the period of the next week. There are variations in the withdrawal reaction for other drugs; in the case of the barbiturates, minor tranquilizers, and alcohol, withdrawal may be more dangerous and severe. During withdrawal, drug tolerance is lost rapidly. The withdrawal syndrome may be terminated at any time by an appropriate dose of the addicting drug.
Addiction, habituation, and dependence
The traditional distinction between "addiction" and "habituation" centres on the ability of a drug to produce tolerance and physical dependence. the opiates clearly possess the potential to massively challenge the body's resources, and, if so challenged, the body will make the corresponding biochemical, physiological, and psychological readjustment to the stress. At this point, the cellular response has so altered itself as to require the continued presence of the drug to maintain normal function. When the substance is abruptly withdrawn or blocked, the cellular response becomes abnormal for a time until a new readjustment is made. The key to this kind of conception is the massive challenge that requires radical adaptation. Some drugs challenge easily, but it is not so much whether a drug can challenge easily as it is whether the drug was actually taken in such a way as to present the challenge. Drugs such as caffeine, nicotine, bromide, the salicylates, cocaine, amphetamine and other stimulants, and certain tranquilizers and sedatives are normally not taken in sufficient amounts to present the challenge. They typically but not necessarily induce a strong need or craving emotionally or psychologically without producing the physical dependence that is associated with "hard" addiction. Consequently, their propensity for potential danger is judged to be less, so that continued use would lead one to expect habituation but not addiction. The key word here is expect. These drugs, in fact, are used excessively on occasion and, when so used, do produce tolerance and withdrawal signs. Morphine, heroin, other synthetic opiates, and to a lesser extent codeine, alcohol, and the barbiturates, all carry a high propensity for potential danger in that all are easily capable of presenting a bodily challenge. Consequently, they are judged to be addicting under continued use. The ultimate effect of a particular drug, in any event, depends as much or more on the setting, the expectation of the user, the user's personality, and the social forces that play upon the user as it does on the pharmacological properties of the drug itself.
Enormous difficulties were encountered in trying to apply these definitions of addiction and habituation because of the wide variations in the pattern of use. (The one common denominator in drug use is variability.) As a result, in 1964 the World Health Organization recommended a new standard that replaces both the term drug addiction and the term drug habituation with the term drug dependence, which in subsequent decades became more and more commonplace in describing the need to use a substance to function or survive. Drug dependence is defined as a state arising from the repeated administration of a drug on a periodic or continual basis. Its characteristics will vary with the agent involved, and this must be made clear by designating drug dependence as being of a particular type—that is, drug dependence of morphine type, of cannabis type, of barbiturate type, and so forth. As an example, drug dependence of a cannabis (marijuana) type is described as a state involving repeated administration, either periodic or continual. Its characteristics include (1) a desire or need for repetition of the drug for its subjective effects and the feeling of enhancement of one's capabilities that it effects, (2) little or no tendency to increase the dose since there is little or no tolerance development, (3) a psychological dependence on the effects of the drug related to subjective and individual appreciation of those effects, and (4) absence of physical dependence so that there is no definite and characteristic abstinence syndrome when the drug is discontinued.
Considerations of tolerance and physical dependence are not prominent in this definition, although they are still conspicuously present. Instead, the emphasis tends to be shifted in the direction of the psychological or psychiatric makeup of the individual and the pattern of use of the individual and his or her subculture. Several considerations are involved here. There is the concept of psychological reliance in terms of both a sense of well-being and a permanent or semipermanent pattern of behaviour. There is also the concept of gratification by chemical means that has been substituted for other means of gratification. In brief, the drug has been substituted for adaptive behaviour. Descriptions such as hunger, need, craving, emotional dependence, habituation, or psychological dependence tend to connote a reliance on a drug as a substitute gratification in the place of adaptive behaviour.
Psychological dependence
Several explanations have been advanced to account for the psychological dependence on drugs, but as there is no one entity called addiction, so there is no one picture of the drug user. The great majority of addicts display "defects" in personality. Several legitimate motives of humans can be fulfilled by the use of drugs. There is the relief of anxiety, the seeking of elation, the avoidance of depression, and the relief of pain. For these purposes, the several potent drugs are equivalent, but they do differ in the complications that ensue. Should the user develop physical dependence, euphoric effects become difficult to attain, and the continued use of the drug is apt to be aimed primarily at preventing withdrawal symptoms.
It has been suggested that drug use can represent a primitive search for euphoria, an expression of prohibited infantile cravings, or the release of hostility and of contempt; the measure of self-destruction that follows can constitute punishment and the act of expiation. This type of psychodynamic explanation assumes that the individual is predisposed to this type of psychological adjustment prior to any actual experience with drugs. It has also been suggested that the type of drug used will be strongly influenced by the individual's characteristic way of relating to the world. The detached type of person might be expected to choose the "hard" narcotics to facilitate indifference and withdrawal from the world. Passive and ambivalent types might be expected to select sedatives to assure a serene dependency. Passive types of persons who value independence might be expected to enlarge their world without social involvement through the use of hallucinogenic drugs, whereas the dependent type of person who is geared to activity might seek stimulants. Various types of persons might experiment with drugs simply in order to play along with the group that uses drugs; such group identification may be joined with youthful rebellion against society as a whole. Obviously, the above descriptions are highly speculative because of the paucity of controlled clinical studies. The quest of the addict may be the quest to feel full, sexually satisfied, without aggressive strivings, and free of pain and anxiety. Utopia would be to feel normal, and this is about the best that the narcotic addict can achieve by way of drugs.
Although many societies associate addiction with criminality, most countries regard addiction as a medical problem to be dealt with in appropriate therapeutic ways. Furthermore, narcotics fulfill several socially useful functions in those countries that do not prohibit or necessarily censure the possession of narcotics. In addition to relieving mental or physical pain, opiates have been used medicinally in tropical countries where large segments of the population suffer from dysentery and fever.
History of drug control
The first major national efforts to control the distribution of narcotic and other dangerous drugs were the efforts of the Chinese in the 19th century. Commerce in opium poppy and coca leaf (cocaine) developed on an organized basis during the 1700s. The Qing rulers of China attempted to discourage opium importation and use, but the English East India Company, which maintained an official monopoly over British trade in China, was engaged in the profitable export of opium from India to China. This monopoly of the China trade was eventually abolished in 1839–42, and friction increased between the British and the Chinese over the importation of opium. Foreign merchants, including those from France and the United States, were bringing in ever-increasing quantities of opium. Finally, the Qing government required all foreign merchants to surrender their stocks of opium for destruction. The British objected, and the Opium War (1839-42) between the Chinese and the British followed. The Chinese lost and were forced into a series of treaties with England and other countries that took advantage of the British victory. Following renewed hostilities between the British and Chinese, fighting broke out again, resulting in the second Opium War (1856-60). In 1858 the importation of opium into China was legalized by the treaties of Tianjin, which fixed a tariff rate for opium importation. Further difficulties followed. An illegal opium trade carried on by smugglers in southern China encouraged gangsterism and piracy, and the activity eventually became linked with powerful secret societies in the south of China.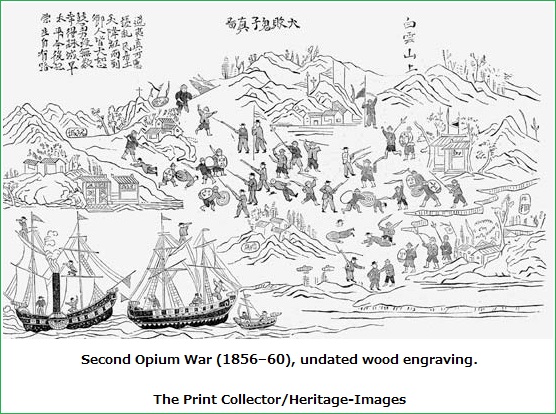 Source: "Drug Use." Encyclopædia Britannica Ultimate Reference Suite, 2013.