Let's Talk Peace
page 4
http://cenocracy.org
---
---
Note: the contents of this page as well as those which precede and follow, must be read as a continuation and/or overlap in order that the continuity about a relationship to/with the dichotomous arrangement of the idea that one could possibly talk seriously about peace from a different perspective as well as the typical dichotomous assignment of Artificial Intelligence (such as the usage of zeros and ones used in computer programming) ... will not be lost (such as war being frequently used to describe an absence of peace and vice-versa). However, if your mind is prone to being distracted by timed or untimed commercialization (such as that seen in various types of American-based television, radio, news media and magazine publishing... not to mention the average classroom which carries over into the everyday workplace), you may be unable to sustain prolonged exposures to divergent ideas about a singular topic without becoming confused, unless the information is provided in a very simplistic manner.
---
List of Pages in this Series


Let's face it, humanity has a lousy definition, accompanying practice, and analysis of peace.
---
In fact, Peace... like many human endeavours, has undergone transitional developments which means both the word and its translation can be altered. Take for example the following article from the Britannica concerning the efforts of some to establish peace in the environment of conflict:
Peace People
Also called Community of Peace People
(Peace People is a) peace organization with headquarters in Belfast, Northern Ireland Founded by Máiread Maguire, Betty Williams, and Ciaran McKeown, it began in 1976 as a grassroots movement to protest the ongoing violence in Northern Ireland. Hundreds of thousands of people, not only in Northern Ireland but also in the republic of Ireland and farther abroad, subsequently participated in protest marches and other manifestations of support for the movement, and Williams and Maguire received the 1976 Nobel Peace Prize for their efforts. The Peace People later developed into an internationally influential nongovernmental organization dedicated to building a peaceful world in which the highest standards of human and civil rights are upheld.
The Peace People movement was a response to Northern Ireland's "Troubles"—a period of violent conflict between Protestants and Roman Catholics, a religious division that often paralleled the political divide between those who supported rule by the predominantly Protestant United Kingdom (loyalists) and those who favoured a union with the predominantly Catholic republic of Ireland (republicans). By the early 1970s the unrest had led to an increased presence of British troops in Northern Ireland, which in turn incited a campaign of bombings and shootings by the anti-British Irish Republican Army (IRA).
One tragic incident in particular sparked the formation of the movement: on Aug. 10, 1976, three children of Maguire's sister Ann were killed by a careening car after its driver, an IRA fugitive, had been shot dead at the wheel by British soldiers. The accident not only personally affected Maguire and Williams—a local mother who arrived at the scene shortly after the accident occurred—but it also touched an entire community fed up with violence. As the public reacted to the killings with prayer vigils and protests, Maguire and Williams spoke to the local media and became voices for the aggrieved community. Williams, Maguire, and McKeown—a journalist and nonviolent activist—met on the day of the children's funeral, and a few days later they founded the Peace People.
McKeown named the movement and wrote its declaration, which read:
We have a simple message to the world from this movement for Peace.
We want to live and love and build a just and peaceful society.
We want for our children, as we want for ourselves, our lives at home, at work, and at play to be lives of joy and Peace.
We recognize that to build such a society demands dedication, hard work, and courage.
We recognize that there are many problems in our society which are a source of conflict and violence.
We recognize that every bullet fired and every exploding bomb make that work more difficult.
We reject the use of the bomb and the bullet and all the techniques of violence.
We dedicate ourselves to working with our neighbors, near and far, day in and day out, to build that peaceful society in which the tragedies we have known are a bad memory and a continuing warning.



More than 100,000 people signed copies of the declaration, and anti-violence rallies and protests throughout Ireland and the United Kingdom followed in the six months after the movement's founding. The rate of violence in Northern Ireland during this period, as measured by number of fatalities, fell by 70 percent, and it continued to diminish over the succeeding decades. After the initial rally phase, the movement's organizers concentrated at the local level, encouraging individuals to form peace groups, to address issues affecting their neighborhoods, to engage in cross-community dialogue, and to work with other locales on joint projects.

In subsequent years the Peace People fought for a repeal of the Northern Ireland (Emergency Provisions) Act, which, among other things, had increased the British army's powers to arrest and question suspects. In 1981 the group helped establish the Committee on the Administration of Justice, a human rights organization, to expose and counter what it saw as the draconian nature of the Emergency Provisions. The Peace People also campaigned for the rights of both loyalist and republican prisoners and arranged a bus service to transport visitors to prisons. (The prison program ceased with the release of political prisoners as part of the Good Friday Agreement of April 10, 1998.) Another program helped members of paramilitary groups to leave their organizations and, in some cases, to emigrate for their own safety. In other areas, the Peace People supported the Integrated Education Movement, which aimed to bridge Northern Ireland's religious and cultural divisions by establishing interfaith schools. In addition, the group established a youth program that featured annual peace camps held in various countries, which allowed young people of different backgrounds to travel abroad and share their thoughts and ideas in a neutral setting.

The organization ultimately expanded its activities beyond Northern Ireland. It lobbied internationally on behalf of nuclear disarmament and nonviolent approaches to conflict resolution, and it sent peace delegations to a number of countries experiencing conflict—including Iraq, Israel and Palestine, the United States, Australia, India, and assorted countries in Africa—in order to support those who advocated nonviolent solutions. The organization also was an instrumental force behind the United Nations' declaration of the International Decade for a Culture of Peace and Nonviolence for the Children of the World (2001–10).

Williams left the Peace People in 1980 and later founded the World Centers of Compassion for Children International in 1997. Maguire continued to work with the Peace People and served as its honorary president. In 2006 Maguire and Williams, along with fellow Nobel Peace Prize winners Shirin Ebadi, Jody Williams, Wangari Maathai, and Rigoberta Menchú, founded the Nobel Women's Initiative to promote peace, justice, and women's rights.

Máiread Maguire: Cofounder of the Peace People and co-winner of the 1976 Nobel Peace Prize. Coauthor of The Vision of Peace: Faith and Hope in Northern Ireland.

Source: "Peace People." Encyclopædia Britannica Ultimate Reference Suite, 2013.
One must wonder if such a group would have received the Nobel Peace Prize if their efforts occurred in a place that didn't have any overt exercises of hostility. In other words, the Nobel Peace Prize committee is locked into the mentality of recognizing efforts for peace in a particular way, and does not have a larger appreciation of what "Peace" actually entails. In fact, one must further wonder how many more Peace prizes will have to be given over how many more centuries before the idea of "Peace" is looked at from another perspective?
Yes, there are many throughout history who have been noted for their peaceful interests and/or efforts in terms of being distinguished by their presence in large conflicts. The day to day "ordinary" efforts of billions goes unrecognized by the esteemed Nobel Prize Committee because it too wants to be recognized for recognizing those who recognize the need for a larger application of peace. And yet, peace is so often misunderstood as well as the intentions of those that may be described as a person of peace, even when the claim otherwise. Take for example the case of Jesus to whom is sometimes given the title "The Prince of Peace". Let's take a look at what he said, as is written in the Bible:
Matthew 10:34
Parallel Verses


New International Version-
"Do not suppose that I have come to bring peace to the earth. I did not come to bring peace, but a sword.

New Living Translation-
"Don't imagine that I came to bring peace to the earth! I came not to bring peace, but a sword.

English Standard Version-
"Do not think that I have come to bring peace to the earth. I have not come to bring peace, but a sword.

Berean Study Bible-
Do not assume that I have come to bring peace to the earth; I have not come to bring peace, but a sword.

Berean Literal Bible-
Do not think that I came to bring peace to the earth; I came not to bring peace, but a sword.

New American Standard Bible-
"Do not think that I came to bring peace on the earth; I did not come to bring peace, but a sword.

King James Bible-
Think not that I am come to send peace on earth: I came not to send peace, but a sword.

Holman Christian Standard Bible-
Don't assume that I came to bring peace on the earth. I did not come to bring peace, but a sword.

International Standard Version-
"Do not think that I came to bring peace on earth. I did not come to bring peace but a sword!

NET Bible-
"Do not think that I have come to bring peace to the earth. I have not come to bring peace but a sword.

New Heart English Bible-
"Do not think that I came to send peace on the earth. I did not come to send peace, but a sword.

Aramaic Bible in Plain English-
Think not that I have come to bring peace in the earth; I have not come to bring peace, but a sword.

GOD'S WORD® Translation-
"Don't think that I came to bring peace to earth. I didn't come to bring peace but conflict.

New American Standard 1977-
"Do not think that I came to bring peace on the earth; I did not come to bring peace, but a sword.

Jubilee Bible 2000-
Think not that I have come to introduce peace into the land; I came not to introduce peace, but a sword.

King James 2000 Bible-
Think not that I am come to send peace on earth: I came not to send peace, but a sword.

American King James Version-
Think not that I am come to send peace on earth: I came not to send peace, but a sword.

American Standard Version-
Think not that I came to send peace on the earth: I came not to send peace, but a sword.

Douay-Rheims Bible-
Do not think that I came to send peace upon earth: I came not to send peace, but the sword.

Darby Bible Translation-
Do not think that I have come to send peace upon the earth: I have not come to send peace, but a sword.

English Revised Version-
Think not that I came to send peace on the earth: I came not to send peace, but a sword.

Webster's Bible Translation-
Think not that I am come to send peace on earth: I came not to send peace, but a sword.

Weymouth New Testament-
"Do not suppose that I came to bring peace to the earth: I did not come to bring peace but a sword.

World English Bible-
"Don't think that I came to send peace on the earth. I didn't come to send peace, but a sword.

Young's Literal Translation-
'Ye may not suppose that I came to put peace on the earth; I did not come to put peace, but a sword;


Source: Bible Hub: Matthew 10:34
The foregoing is one of those (very many) verses which becomes reinterpreted to coincide with the belief of a reader... typically represented as a contrast to what is written because, only a select few are enabled to correctly interpret the text and will tell us what they want us to know... just like politicians, judges, and many others. Truth becomes like so many other things: in the eye of the beholder... or at least, whomever is the authority in charge at a given moment. You are not to take the bible literally, but take it as a text which can be "adjusted" to fit person, place and thing to which it is to be applied (like "fudging" a tax return or using "creative" accounting methods in different contexts for different rationalized reasons).
Here's a short poem which emphasizes the situation:
Jesus Brings Division


Jesus is the Prince of Division
he is not the Prince of Peace
Matt. 10:34 takes on a revision,
in the minds of those who preach.

And those that say they're believers
perpetuate the lie on and on
they have joined the church of deceivers,
though many know it is wrong.

Mohammed, Buddha and Jesus
are clouded windows of a bicameral past
echoes of spirits that still deceive us;
graven images that the followers cast.
A discussion about the topic of peace can not go without mentioning religious precepts of how one should think. The same goes for secular (non-religious) thoughts which are sometimes restructured to fit "political correctness", or "sexual orientation" permissibility, or "scientific factuality", "cultural observance", etc... But enough has been said from this vantage point. Let's now provide some more "threes" examples. This listing may contain a few repeats of items found on the anatomy page. If you have come to this page by accident, the contents of this page may not make sense to you in a discussion about "Peace". You must start at the beginning to get the idea of what is being done (in terms of information) and why.
3
Classifications for selecting rotation crops:
(resulting in a simple 3-patterned ratio of 1:1:1: requiring 3 fields and 3 years to produce each crop annually)
Cultivated row
Close growing grains
Sod-forming (rest crops)
3 basic steps in processing harvested rice: Cleaning & hulling - Removing the bran layers - Grading
3 gastric mucosa regions: Cardic glandular - Oxynti glandular - Pyloric glandular
3 system interaction for gonadal regulation: Hypothalamus - Anterior Pituitary - Gonads
3-letter mnemonic rule-of-thumb for First Aid: (A)irway - (B)reathing - (C)irculation
3-group sorting method during disasters to maximize number of survivors: Triage
3 lethal injection drugs: Sodium Pentothal - Pancuronium Bromide - Potassium Chloride
3 Spinal Cord white matter columns: Dorsal Funiculus - Lateral Funiculus - Ventral Funiculus
3 lobes on each Cerebellum hemisphere: Blocculondodular - Anterior - Posterior
3 sequences of kidney development: Pronephros - Mesonephros - Metanephros
3 main animal tissue fluids: Lymph - Cerebral Spinal - Milk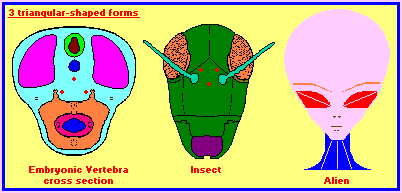 3 simple eyes (ocelli) in a triangular form between many adult insect compound eyes
3rd eye: humans, and perhaps aliens as well, are said to have a third eye (sometimes interpreted to be the light sensitive organ called the pineal gland, or "pineal eye" in reptiles.)
3 coats of the gall-bladder: Serous - Fibromuscular - Mucous
3 lobes to the prostate gland
3 basic leaf types: Opposite - Alternate - Whorled
3 basic leaf shapes: Broad - Narrow - Needle
3 distinct Cytoskeleton components: Microtubules - Actin Filaments - Intermediate Filament
3 types of animal symmetry: Radial symmetry - Bilateral symmetry - Asymmetrical
3 insect types based on metamorphosis: Ametabolous - Hemimetabolous - Holometabolous
3 main divisions of insect digestive system tube: Foregut - Midgut - Hindgut
3 principal components of a typical insect antennae: Scape - Pedicel - Flagellum
3 integumental elements of insect wing: Cuticle - Epidermis - Basement membrane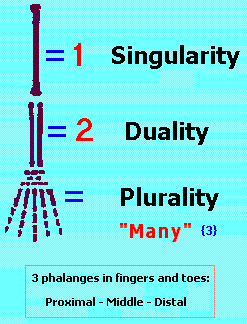 3 bones (fingers, toes) - 2 bones (ulna/radius, tibia/fibula) 1 bone (humerus, femur)
3 appendage joint divisions: Shoulder - Elbow - Wrist/ Hip - Knee - Ankle
3 orders of leeches: Acanthobdellae - Rhynchobdellae - Gnothobdellae
3 layers ("horizons") to most soils: Topsoil - Subsoil - Partly decomposed bedrock
3 main mineral fertilizer elements: Nitrogen - Phosphorus - Potassium
3 common (U.S.) commercial grade percentages of cocoa butter: 11 - 17 - 22
3 parts or multiples of 3 (sepals, petals, stamens) occur with 3-chromosome plants
3 layers to Pericarp (ovary wall): Exocarp - Mesocarp - Endocarp (wall of the fruit)
3 common black male field cricket notes sometimes translated as "Please-Come-Here!"
3 "courting" chirp of European house cricket translated (by me) as "I-love -you!"
3rd F above middle C is pitch trilled for 1 5 sec. or more: (Black-horned tree cricket)
3 faint notes, Tip-Tip-Tip then a 5 to 20 sec. Tse-e-e-e: slender meadow grass-hopper
3 digestive enzymes: Glycerol esterhydrolase - Cholesterol esterase - Phospholipase A2
3 substances regulating HCL (gastric acid): Acetylcholine - Histamine - Gastrin
3 increased acid secretion phases in response to food: Cephalic - Gastric - Intestinal
3 glomerular capillary layers: Endothelium - Basement membrane - Podocytes/foot process
3 adrenal cortex zones: Outer (cortex) - Inner (medulla) - Outermost (zona glomerulosa)
3 input/output synapses (relations) classes: one-to-one, one-to-many, many-to-one
3 animal groups have developed true flight: Insects - Birds - Mammals
3 categories of migratory fishes: Oceanodromous - Anadromous - Cotodromous
3 winters, or 2 winters, or 1 winter: length of time Salmon remain in the sea
3 hour period: nocturnal migratory bird flights occur between 10 pm and 1 am
3 (length) types of rice: Short grain - Medium grain * Long grain
3 Asian rice groups: Indica - Japonica - Javanica
3 commercial ((U.S.) wheat types: Common Wheat - Club Wheat - Durum Wheat
3 main kinds of tea: Black - Green - Oolong
3 largest tea leave groups, used for loose tea: Orange Pekoe - Pekoe - Pekoe Souchong
3 smaller/broken tea leave groups, for tea bags: Broken Orange Pekoe - Broken Orange Pekoe Fannings - Fannings
3 piercing stylets in the mouth: The 1,600 kinds of fleas (Siphonaptera) on earth
3 small stylets: Sucking lice (Anoplura)
3 visceral cavities of humans: Skull - Thorax - Abdomen
3 organs considered vital for life: Brain - Heart - Lungs
3 major adrenal cortex hormones: (Glucocorticoid) cortisol - (Mineralocorticoid) aldasterone - Sex steroid precursors
Zoologists have noted many triads within the human body. It would seem as if every important function of an organism possesses this basic structure. Such observations illustrate the fundamental meaning of the triad as the living wholeness of types of relationship within a complex single structure. It is a mark simultaneously of a being's unique identity and of its internal multiplicity, of its relative stability and of the mobility of its components, of its immanent independence and of its dependence. The triad is as useful a channel of dialectic in the logical exercise of thought as of movement in physics and of living matter in biology. The basic rationale of this universal phenomenon of threes must no doubt be sought in a metaphysics of composite and contingent being and in a global view of the manifold oneness of being - appearance, development and destruction (or transformation); or birth, growth and death; or again, in Astrological tradition, increase, culmination and decrease.
3 letter (unofficial) - 2 letter - 1 letter abbreviations on Periodic Table of Elements
*** After 3 years of debate, the International Union of Pure and Applied Chemistry (IUPAC) has officially announced (two-patterned abbreviated) names for elements 101 through 109 that were previously (unofficially) named with three-patterned abbreviations. -This is another example of regressing from a 3 to a 2.
*** A triadic structure of elements for the Periodic Table was proposed by J.W. Dobereiner in 1817. The triad is the earliest atomic weight classification of the elements.
3 basic groups of the Periodic Table: Metals - Non-metals - Semi-metals
3 insect migration types: One-way emigration to breed - From breeding to feeding area - From breeding areas to hibernation sites
3 common animal territorial markings: Feces - Urine - Scent
3 major components of sunlight: Visible - Ultraviolet - Infrared
3 main types of plant hormones: Auxins - Cytokinins - Gibberellins
3rd eye in humans is referred to as the "mind's eye"
*** The Arthropods are the largest phylum of invertebrate animals with jointed legs, a segmented body and an exoskeleton, including insects, crustaceans, arachnids and myriapods. In 1866 Ernst Haeckel proposed a Monophyletic theory of Arthropoda evolution. In 1894 Moseley proposed a theory of Arthropoda evolution. Tiegs and Manton (1958), Anderson (1973), and Manton (1973, 1977) have presented strong arguments in favor of a Polyphyletic theory of Arthropoda evolution. This third theory is based on evidence derived largely from comparative embryology and functional morphology which heavily supports dividing the Arthropods into three natural groups, each with the rank of phylum. The term "arthropods" thus becomes an indication of a particular grade of advancement and no longer has taxonomic status. The 3 phyla of this theory are the Chelicerata, Crustacea and the Uniramia. This theory requires the acceptance of the idea that an extensive evolutionary convergence has taken place. (In other words, a "fusion" has/is taking place.)
Tiegs and Manton, to the idea of an original three-segmented head (seen in modern Onychophora), have added progressively, Mandibular, First Maxillary, and Second Maxillary (labial) segments, giving rise to the "Monognathous", "Dignathous", and "Trignathous" conditions, respectively. There has been found no trace of the Monognathous condition. The Dignathous condition is found in the Pauropoda and Diplopoda and Trignathous condition is seen in the Chiopoda (in which the second maxillae remain leglike) and the Symphyla and Hexapoda (in which the second maxillae fuse to form the labium).
This is a diagram indicating the main features of adult limb structures in arthropods, with the exite/outer ramus more proximally placed than in crustaceans:

(i) biramous,
(ii) uniramous,
(iii) primitively biramous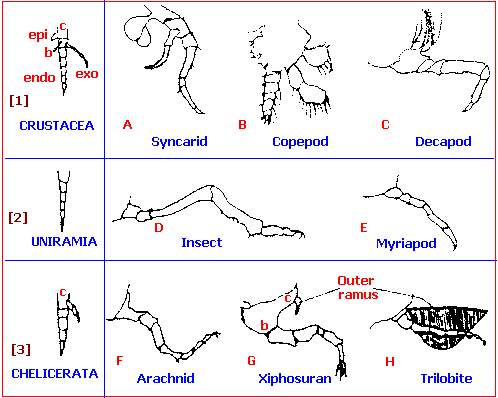 As can clearly be seen in the simplified illustration:

The Uniramia have (1) podite,
The Chelicerata have (2) podites and
The Crustacea have (3):

Epipodite - Endopodite - Exopodite, (in spite of the fact that the Crustacea are labeled biramous).
epi = epipodite; endo = endopodite; exo = exopodite; b = basipodite; c = coxopodite.
The Oligoneoptera (bees, wasps, ants, beetles, lice, flies, fleas, etc.) are characterized by the presence of a pupal stage between the juvenile and adult phases of development. Several theories (and attendant stage labels) have been proposed to account for the development of the pupal stage within the 3 distinct stage system. The differing theories, except for H.E. Hinton's (I 963) which has attracted attention said to be due to its simplicity, revolve around arguments generally centered on:
"Suppression of the larval stage"
"Compression of the nymphal stage"
"Expansion of the imaginal stage".
---
— End of page 4 —
---
Date of Origination:
Wednesday, 14-Dec-2016... 02:04 PM
Date of initial posting:
Thursday, 15-Dec-2016... 07:53 AM
Updated posting:
Friday, 6-April-2018... 11:11 AM