Cenocracy T-Shirts
---
It will be of interest to see what entire family, business or religious group is the first to refer to themselves as Cenocrats. And because California often takes the lead (aside from New York and places in Europe) in portraying progressive ideas, it will be of further intrigue to see which State will be the first to define itself, or be defined by others such as pollsters, journalists or political scientists; not as the flavor of some Democratic, Republican or Independent majority whose goal is to replace one politician for another, but as a (the 1st) Cenocratic Majority whose goal is to promote, establish and maintain a Cenocracy (New Government) design on behalf of the people and not some politician who wants a chance to role play in a system of governance which exercises an anti-trust (we can't trust them) monopoly of socio-political power against (over) the people. If politicians were actually focused on Representing the people, they would be supporting a Cenocratic Ideal. A Cenocracy not only provides the people with a soap box, a pulpit, and a lectern, but an actual means to make their collective will the law of the land without their ideas being mangled by the will of those whose ulterior motives frequently exhibit a self-promotion instead of promoting the actual collective will of the people. The following are examples of the "1st Cenocratic Majority" idea displayed in a t-shirt format:
| | |
| --- | --- |
| | |
---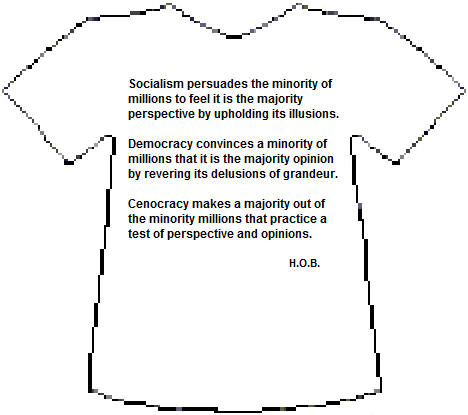 ***
Humorously put, some might consider that the idea of a Cenocracy came by way of spores inside a meteorite flung from some deep region of space and has begun to sprout after having fallen from a shooting star... and became embedded in those receptive brains amiable to nurturing the idea into a blossom from which will evolve a more viable and complex life form. Many usefully practical ideas have a birthplace in imaginative considerations... but a metaphor is sometimes not recognized as such unless it is deliberately defined analogously out of context and made less cryptic by being denoted as a clue. Many a treasure map is like this.
Leonardo Da Vinci practiced a simplistic form of this 'use of a code' by indulging in what has been described as "mirror writing" or "backwards writing" (writing backwards), as a means of concealment, and not necessarily revelation, though it is also now realized as an insight into how his mind worked at a given time and place of his life... he was far ahead of his time in multiple respects. Cenocracy is like this because it represents an historically greater ideal of Equality, Justice and Liberty in not only a redistribution of wealth, but a redistribution of socio-political power. Present governing structures (business, government, religion) prefer that the public remains naive enough to buy into their respective "products". They intentionally want to keep the public in a state of addiction, of dependency, of insecurity.

We need a new form of governance which permits, encourages and requires the public to develop its intelligence, insight, creativity, compassion, originality, talents, courage and yes, even genius. The public needs its own collectively-individualized voice which is Constitutionally mandated as THE governing legislative branch of their government, and not some sham derivative by way of vicarious Representation. Present governing systems have been developed and maintained like some undergraduate rats-in-a-maze (or social labyrinth) psychology test engaged in by students who repeatedly flunk and repeat the course because they fail to grasp the essential fact that it is they who are being tested by those who themselves fail to move beyond their own contrived nonsense being used as a means of verification and validation; for perpetuation of sentimentalized fictions deluded into a reality formulated into a tradition to be respected... because it assists them in exercising self-centered ulterior motives which praises the people in public but damns them in private as an irrelevance set against a graduated scale of personalized need to achieve personal goals and if the public gets hurt in the process, such suffering is obligingly washed off their hands by defining the action as collateral damage. Indeed, it is time for us to move beyond the present "Demo" of a Democracy presently being practiced and move Upward, Forward and Onward to an Actual Democracy called a Cenocracy.

Here are some additional "1st Cenocratic Majority" T-shirt examples:
| | | | |
| --- | --- | --- | --- |
| | | | |
| | | | |
| | | | |
| | | | |
| | | | |
| | | | |
| | | | |
| | | | |
| | | | |
| | | | |
| | | | |
| | | | |
| | | | |
| | | | |
| | (Oregon front) | (Oregon back) | |
| | | | |
| | | | |
| | | | |
---
Here's some examples of "Cenocracy" being applied to T-shirts arranged with the colors and/or emblems of different countries throughout the world. The listed examples are not comprehensive and will be added to when time comes available to create more.
Here are some examples of American Political Party Perspectives, even though the "Occupy" selection is not considered a "formalized" party. However, it must be noted that a political group or "Movement" does not have to formally register themselves as a political party (in the U.S.) so long as their primary goal is not directed towards a selectivity of purpose to get someone into a particular political office... though this same perspective should hold true if there is an objective to remove someone from office yet retain the insistence that the person's replacement is not singularly objectified. In other words, though they may want someone out of a particular office, they have no specific person in mind to replace them as is typically characteristic of a political party.
---
Previous Posting:
Wednesday, September 9, 2015
Updated Posting (Maintenance):
Saturday, 13-May-2017... 10:01 AM