A New Communism
---

Visitors as of 2nd February 2020
Mr. Buckland at the Threesology Resource Journal was commissioned to come up with what we at this site thought was going to be a slight variation on current themes of Communism, only to find he took it in a whole different direction. We were not expecting to be met with a perspective none of us had even the slightest inkling of as an alternative consideration.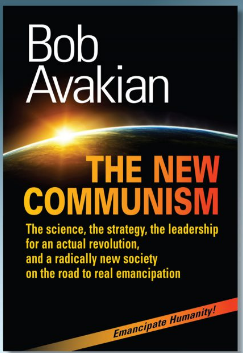 Whereas the old variation of a New Communist Movement in the 1970s and 1980s was an attempted coalition of diverse Communist groups under the banners of Maoism and Marxist–Leninism and The New Communism by Bob Avakian are essentially a repackaging effort of former ideas.
On the other hand, Mr. Buckland's A New Communism takes us along a whole different path based upon a realization of an ongoing environmental degradation requiring the usage of a Communism... yet not as a goal, but as a stepping stone. While there is some digression due to his primary interests and focus in the "threes" research area, the essential reasons for adopting A New Communism are laid out. As governments become deligitimized over time, a global call for a Cenocracy (New Government) will ensue. This government will no doubt effect some form of Communism that has not be attempted nor considered in the past nor present. It is not a Marxist/Engels, nor Stalinist, nor Maoist, Trotskyism, Castroism, etc... These ideas and their variations are too self-obsessed by viewing themselves as some ultimate goal to be achieved, as due many of the religions being practiced today. They believe their practice is the goal to be achieved by everyone before any further progress is to be made.
This being the case, they all stand in the way because they are erected like walls that are promoted as protection, but are instead different forms of incarceration. This is not a discussion about a belief in a God or morality, but about the practice of religion or some spiritual philosophy as being "The Way" to some supposed salvation, oneness with (a) God, Enlightenment, etc... Those who believe in such things being achieved by a given religious or alternative spiritualist philosophy are types of voracious Capitalists who want some reward in the here and now and view their level of commitment to a given practice as a measure of personal wealth to exhibit. The more they can memorize of a given text or a given ceremonial procedure, the more they are viewed as being wealthier than others. However, in order to create a view that such things represent wealth, others must be forced to participate in the same illusions and delusions as they do. They are called the unfaithful if they do not, are may be variously ostracised and disenfranchised. Such is one of many silly ways in which humanity engages in rationalized survival mechanisms.
For reasons still not understood (on Sunday, February 2nd), someone initiated the download on the Threesology Research site instead of it being given to us so that we might do it here. Something is clearly in the works behind the scenes which we haven't figured out, but seeing as how the commission for the tract did not exactly specify giving it back to us... only that after it is written it is to be uploaded, some misinformation appears to have transpired. Contact with Mr. Buckland's sponsors has yet proved to be futile. Until such time as it is worked out, we provide links to the "A New Communism" here:
Update: Sunday, 02-02-2020, 12:38 PM; The go-between for the Threesology.org sponsorship has contacted us and asked for permission to not only return the $2500 commission fee for the A New Communism tract (which appears to be in a preliminary stage of development!), but has also offered to provide a sponsorship for the Cenocracy.org site. A meeting is to be setup to work out the sponsorship details.
Update: Monday, 02-03-2020, 4:54 AM: Emails have been set out indicating the annual stock holders meeting will take place in 72 hours on Wednesday the 5th via regular conferencing mode at 7:00 PM. We are to vote on relinquishing all Cenocracy.org stocks at the following rates of exchange and under the preliminary conditions:
1-10 Stocks will receive twice their current market value.
11-22 stocks will receive three times current value.
23-33 stocks will receive four times the current value.
34-45 stocks will receive five times the current value.
46+ stocks will receive ten times the current value.
Individual stocks may be combined to increase valuation. However, if all are sold at one time by way of a Unanimous decision, each of us will receive a whopping 15% dividend and provided with an opportunity to buy into the sponsorship's other holdings! (No details have thus far been provided.)
Everyone holding a Cenocracy.org stock certificate will also be provided a one-for-one stock exchange for the Threesology.org site, which we all know was the initial parent organization from which we were branched off from at an early inception due to conflicts of interest and a diversified monetary regime to cover costs for authorships who wanted a direct reimbursement and did not want a stock certificate. (It appears the former dichotomy is trying to produce a synergy through an amalgamation.)
Regardless of sales, the Threesology.org site sponsors will always retain a 51% majority.
Please make a full assessment of your portfolios. If an exchange does take place, the transaction will occur very quickly.
For those that have been offered a certificate but remain indecisive, you will be given a further opportunity to receive a current rate of exchange if you did not accept a monetary commission for a submission or suggested topic to be written about.
A sponsorial representative will be on hand to field any questions they have been directed to provide.
There is much discussion to take place and we are expecting a full membership attendance. Those who do not attend, and if it is agreed that we should accept the very generous offer, despite "ownership" misgivings to a centralized authority whom we have never met and whose by-law philosophy has not been spelled out; all absentee members will be provide the greater valuation plus a comparable amount of stocks from the proposed exchange rate.
---
Update: (The Chess move is as follows-)
Due to multiple requests, the stock holders meeting will take place on Friday the 7th at 6:00 PM Pacific Standard Time and will continue for 3 days in order to give our Russian, Asian, Indian and African parties an ability to voice their opinions. The meeting will be recorded as usual. In the event that any issues are not resolved, the meeting will be carried over until the next weekend or as needed. Ship-to-shore channels are to be closed, but cellphone texts will be admitted so long as the previous protocols are observed. Use of the proxy servers is permitted as well as proxy delegates for those wishing to remain anonymous. Since UHF and VHF are being monitored, use of inter-mediary transponders and translocaters is permitted. Since this is an open forum by request, it is imperative that enumerated identities be used along with camel-backed interrogatives. We have also been notified that Mr. Buckland will be on hand to participate while on his sabbatical, but will not be in the position of sponsorship mediator.
Update: It has been unanimously agreed that a convergence between the Cenocracy.org and Threesology.org sites will begin the transition into a Unanimity. However, because the allotted time for last night's meeting did not allow for the introduction of New Memberships, this will take place next Friday. The introduction of a "Blind man and Elephant" routing system will be put into effect. Funds for the Unanimously accepted transaction will be disbursed on the next business day. Exchange rates providing the greatest valuation are to be used.
Whereas the sharing of dividends between members is not considered a business transaction but an awards ceremony tied to membership status, the inquiry of whether we are going to go public with the certifcate offerings takes us into a whole different, and more complicacted realm. The potential for seeking a "non-profit" political party status becomes devoid at that point. As for the present, all monetary transactions are between members and do not involve outside businesses, except for the reciept of funds from the sponsorship group providing representative support. All are being conveyed as personal transactions. For those members interested in broadening their investment portfolios with the New Offerings from the Threesology.org sponsors, these will take place outside the parameters of the webpage structures. Neither the Threesology.org nor Cenocracy.org have any affiliation, other than membership accountabilities for the external transactions taking place. In other words, they are not being run as businesses.
---
Date of Origination:
Sunday, 2nd February 2020... 6:05 AM
Initial Posting:
Sunday, 2nd February 2020... 6:41 AM
Updated Posting:
Saturday, 8th February 2020... 8:57 AM