Example of words/ideas used for number values:


Odd numbers = male
Even numbers = female



In mathematics, a perfect number is one that equals the sum of its divisors (excluding itself).

0 = nothing, empty, broke, death, omega, end, over...etc...

1 = single, unity, alone, merger, nation, club, god, serving, scoop of ice cream for a child, single-chambered (simple) eyes (most of the invertebrate phyla), single stomach (humans), single-chambered heart (29,000 species of the class Malacostraca (subphylum Crustacea, phylum Arthropoda), broad jump (track and field), single "leader/director" games: (hide-n-seek, Mother May I, chase/tag, dodge ball...), boomerang toss, Unionism, Solidarity, Nationalism, Imperialism, Monarchy, club, gang, unit, family, couple (as one), etc...

2 = duality, couple, dichotomy, pair, dipole, twins, binary, yin/yang, double fertilization (such as in angiosperms), diploid chromosomes, double fertilization, double time (military), duple time (classic poetic metre), opponent games: (tug-of-war, red rover-red rover, checkers, chess, billiards, tennis, badminton, truth or lie, truth or dare...), etc...

3 = triad, triple, trinity, triune, triangle, trinary, unity, trichotomy, triplets, male, triangulation, combo meal, small-medium-large, yin-unity-yang, spicules on some sponges (calcareous triradiate), three-chambered stomach (camels and chevrotains), three Germ layers (Endoderm- Mesoderm- Ectoderm), triploid chromosomes, triple-jump (Olympics), Triple Crown (Horse racing), Triple Alliance (Secret agreement between Germany, Austria-Hungary, and Italy in May 1882), Cytoplasmic Membrane of Bacteria (Appears in electron micrographs as a triple-layered structure of lipids and proteins that completely surround the cytoplasm.), Typical plants where crop circles are found have triple chromosomes, Triple bond: (in chemistry, a covalent linkage in which two atoms share three pairs of electrons, as in the nitrogen molecule, N2, or acetylene, C2H2.), Triple point (physics: the unique temperature and pressure at which the solid, liquid and gas phases of a substance are all in equilibrium), Three-chambered heart: (Lungfishes and amphibians, were the first animals to acquire a three-chambered heart.), etc..



(The "3" is regarded as Spiritual)



---
Here is an extended expression of one example:
Pythagorean Triples
The study of Pythagorean triples as well as the general theorem of Pythagoras leads to many unexpected byways in mathematics. A Pythagorean triple is formed by the measures of the sides of an integral right triangle—i.e., any set of three positive integers such that a2 + b2 = c2. If a, b, and c are relatively prime—i.e., if no two of them have a common factor—the set is a primitive Pythagorean triple.
A formula for generating all primitive Pythagorean triples is:
a = p2 - q2, b = 2pq, c = p2 + q2
in which p and q are relatively prime, p and q are neither both even nor both odd, and p → q. By choosing p and q appropriately, for example, primitive Pythagorean triples such as the following are obtained: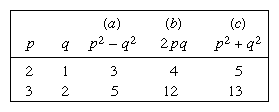 The only primitive triple that consists of consecutive integers is 3, 4, 5.
Certain characteristic properties are of interest:
Either a or b is divisible by 3.
Either a or b is divisible by 4.
Either a or b or c is divisible by 5.
The product of a, b, and c is divisible by 60.
One of the quantities a, b, a + b, a - b is divisible by 7.



It is also true that if n is any integer, then 2n + 1, 2n2 + 2n, and 2n2 + 2n + 1 form a Pythagorean triple.

Certain properties of Pythagorean triples were known to the ancient Greeks—e.g., that the hypotenuse of a primitive triple is always an odd integer. It is now known that an odd integer R is the hypotenuse of such a triple if and only if every prime factor of R is of the form 4k + 1, where k is a positive integer.

Source: "Number Game." Encyclopædia Britannica Ultimate Reference Suite, 2013.

---

4 = quad, 2 X 2, square, elements, Nobel truths, humours, female, directions, four horseman of the Apocalypse, stars (art), spicules on some sponges (calcareous quadradiate), four-chambered stomach/two toes (ost ruminants), four-square (child's game), Four chambered heart: (The pulmonary circulation becomes totally separate in crocodilians, birds, and mammals (also dinosaurs?)— as opposed to lung fish and reptiles— when the ventricle is divided into two chambers, producing a four-chambered heart... but there is a bicuspid/tricuspid heart valve arrangement), As in all four-legged animals, the dinosaurian pelvis was a paired structure consisting of three separate bones on each side that attached to the sacrum of the backbone. The ilium was attached to the spine, and the pubis and ischium were below, forming a robust bony plate., etc...



Here's a more lengthy "four" example: ...They trace four "dimensions" in evolution -- four inheritance systems that play a role in evolution: genetic, epigenetic (or non-DNA cellular transmission of traits), behavioral, and symbolic (transmission through language and other forms of symbolic communication). Evolution in Four Dimensions: Genetic, Epigenetic, Behavioral, and Symbolic Variation in the History Author: Eva Jablonka, Marion J. Lamb

(The "4" is regarded as Material)



5 = basket ball team, fingers/toes, Platonic solids, pentagram, stars (badges), starfish arms, The tubular, five-lobed, funnel-shaped or flaring flowers of the phlox, or Jacob's ladder, family of plants; there are about 18 genera and some 385 species are gathered into clusters or heads. (They usually have three-chambered ovaries with styles topped by three narrow stigmas.), etc...

6 = six pack, half dozen, Captain Hicks, sextet, perfect number, stars (badges), starfish arms, etc...

7 = Big dipper, week, septenary, Menorah, seven teenage years, starfish arms, etc...


(In the Hippocratic tradition of medicine, 7 rules the illnesses of the body, with painful illnesses lasting 7, 14, or 21 days).

8 = eight ball (billiards), an auspicious number (in oriental settings):


The square of any odd number, less one, is always a multiple of 8 (for example, 9 - 1 = 8, 25 1 1 = 8 x 3, 49 - 1 = 8 x 6), a fact that can be proved mathematically.

In Buddhism 8 is a lucky number, possibly because of the eight petals of the lotus, a plant associated with luck in India and a favourite Buddhist symbol.

In China, just as the number 7 determines the life of a woman, 8 determines that of a man. A boy gets his milk teeth at eight months, loses them at eight years, reaches puberty at 2 x 8 = 16, and loses sexual virility at 8 × 8 = 64. The I Ching, which describes a system of divination using yarrow stalks, involves 64 = 8 x 8 configurations.

(64 squares to a chess board and 64 amino acid table are other examples, though an 8 x 8 reference may not be made.)

9 = baseball team, 3-squared, etc...


In Anglo-Saxon cultures 9 crops up frequently. The early inhabitants of Wales used nine steps to measure distance in legal contexts; for example, a dog that has bitten someone can be killed if it is nine steps away from its owner's house, and nine people assaulting one constituted a genuine attack. In German law the ownership of land terminated after the ninth generation. Many folk sayings involve the number 9. A stitch in time saves nine. Cloud nine is the ultimate in happiness. A cat has nine lives. In Greek mythology the River Styx, across which souls were ferried to the underworld, is described as having nine twists.

10 = Pythagorean perfection/completeness, fingers, toes, base ten, (no ten dollar bills used by Walmart), Biblical Commandments, etc...

11 = (seldom heard as an explicit reference), Ocean's 11 (movie title), 11th hour (latest possible moment/last minute), etc...


Sandwiched between the two auspicious and important numbers 10 and 12, the number 11 generally has negative connotations. Bungus stated that 11 has no connection with the divine, and medieval theology refers to the "11 heads of error." Because at any time one of the 12 zodiacal signs is hidden behind the Sun, the number 11 is often associated with the zodiac. In the Babylonian creation myth Enuma Elish Tiamat, the god of chaos, is supported by 11 monsters. The ancient Roman equivalent of a police force comprised 11 men whose job was to hunt down criminals. Several sports involve teams with 11 members (American football, football [soccer], cricket).

12 = dozen, etc...


The number 12 is strongly associated with the heavens—the 12 months, the 12 signs of the zodiac, and the 12 stations of the Moon and of the Sun. The ancients recognized 12 main northern stars and 12 main southern stars. There are 24 = 2 × 12 hours in the day, of which 12 are daytime and the other 12 nighttime. The number 12 is the product of the sacred and the secular (3 × 4); it is the sum of the numbers of life and good fortune (5 + 7). It thus incorporates many distinct virtues. In Christianity it is the number of Christ's disciples, and it occurs many other times in the Bible—for example, the Twelve Tribes of Israel. Several cultures have used numbers based on 12 (duodecimal); the 12 inches in a foot are one familiar relic of such a system.

13 = baker's dozen/long dozen, teeny bopper (1st year of being a teenager), etc...


Triskaidekaphobes believe 13 to be unlucky, especially when the 13th day of the month is a Friday, a fear that was reinforced by the explosion that almost wrecked the Apollo 13 lunar spacecraft in 1970. Skeptics note that it returned to Earth safely, unlike any other manned spacecraft that has exploded, making its crew some of the luckiest people on the planet. The fear of 13 may relate to Judas Iscariot's having been the 13th person to arrive at the Last Supper, but its negative undertones go back much earlier, probably because an extra 13th item spoils the auspicious 12. There are 13 lunar months in the year (with a small error), which led the Maya and the Hebrews to consider 13 as auspicious. In medieval theology 13 = 10 + 3 (Commandments plus Trinity), and therefore the number had some positive aspects.

14 = pay period (bi-weekly), etc...


The number 14 is an even number with attributes similar to those of 7. A period of 14 days is half of the Moon's 28-day cycle, so it takes 14 days (one fortnight, short for fourteen-night) for the Moon to wax from new to full or to wane from full to new. In ancient Egypt Osiris was cut into 14 parts. The number is important in Islam; the Arabic alphabet contains 14 Sun letters and 14 Moon letters. In medieval Germany 14 innocent beings gave legal protection to whomever they accompanied.

15 = obscure references, (how often is this value actually used as a culturally denoted prominence in conversation?), etc...


As the product of two sacred numbers (3 × 5), 15 naturally has religious significance. In ancient Nineveh the goddess Ishtar was served by 15 priests, and the city had 15 gates. The 3 × 3 magic square has 15 as its magic constant, and in Babylon this square was associated with Ishtar.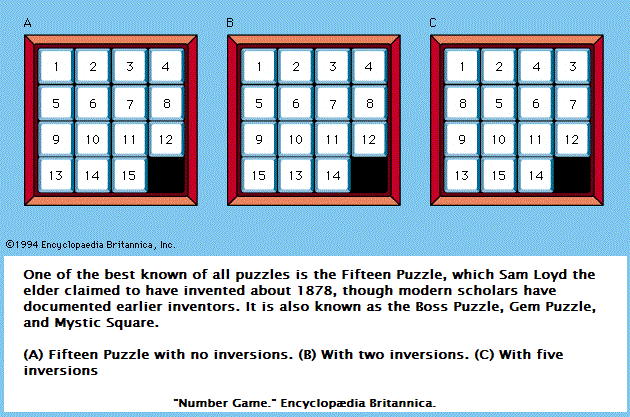 ---

16 = sweet 16, etc...


Because 16 is the square of 4, it inherits favourable attributes. It was popular in ancient India; the Vedas talk of 16-fold incantations, and the Chinese-Indian goddess Pussa has 16 arms. The Rosicrucians believed that nature consisted of 16 elements.

17 = cicada cycle, 17-year locust, beginning transition into adulthood, etc...


In ancient times, in the region of Urartu, near Mount Ararat, the local deity was offered 17-fold sacrifices. The biblical Flood began on the 17th day of the second month and ended on the 17th day of the seventh month. Greek superstition holds the 17th day of the month to be the best day to cut wood to build a boat. Some followers of Sufism believe that the most sacred name of God has 17 letters. Mathematicians find 17 unusual because a regular 17-sided polygon can be constructed using the Euclidean tools of ruler and compass, a fact discovered by the German mathematician Carl Friedrich Gauss at the age of 19.

18 = legal adult in the eyes of the law, etc...


Because 18 is twice 9, it has some significance by association with 9. In Norse mythology Haldan has 18 sons and Odin knows 18 things. The number is sacred to the Sufi mystics known in the West as the Whirling Dervishes, and their custom was for a guest to bring gifts in multiples of 18. The Indian Mahabharata has 18 books, and the Jewish prayer shemone 'esre (Hebrew: "eighteen") originally consisted of 18 blessings.

19 = individualized (in-group) cultural references, etc...


Eclipses of the Sun tend to recur in periods of 19 years. The Babylonians considered the 19th day of the month to be unlucky because it was 49 days from the beginning of the previous month (add 30), and, since 49 = 7 × 7, it was a day of great portent for good or evil. In Islamic numerology 19 is the value of the word Wahid (Arabic: "One"), an important name for God.

20 = significantly used money denomination in some cultural circles, etc...


The number 20 has little mystical significance, but it is historically interesting because the Mayan number system used base 20. When counting time the Maya replaced 20 x 20 = 400 by 20 x 18 = 360 to approximate the number of days in the year. Many old units of measurement involve 20 (a score)—for example, 20 shillings to the pound in predecimal British money.

21 = American (three-patterned) expression: free, white, and 21.

40 = various biblical references

60 = seconds, minutes, hours, etc...

100 = significant monetary denomination in some social circles, C-note, century, perfect score, perfect grade, peak perfection, success, etc...


Because our notational system for numbers is decimal (base 10), the number 100 takes on a significance that it would probably not possess if we employed other systems of notation. It is a round number and holds hints of perfection. The Western calendar is divided into the decade (10 years), century (100 years), and millennium (1,000 years), with the century as the most important unit. Thus, one refers to the 20th or 21st century as a way to establish a broad historical period. In the game of cricket, scoring 100 runs (a century) is a major feat for a batsman, but to be out at 99 is a significant failure. A half-century (50) is also a sign of good play, whereas falling short at 49 is undesirable. (If we had seven fingers and counted in base 7, we would write 49 as 100, so presumably 49 would be considered an excellent score in such a culture.) The dollar is divided into 100 cents, and many other currencies (pound sterling, euro) involve a similar subdivision of the main unit of currency. The Celsius temperature scale has 100 degrees as the boiling point of water. "A hundred" often just means "a lot"; for example, the Roman centurion did not always command exactly 100 men.

By the same token, 101 often means "a lot" too, but it is manifestly bigger than 100, and its lack of roundness makes it sound more precise, such as in the Disney-Company-produced 101 Dalmatians (1961).

144 = 12 dozen (gross)

300 = perfect score in bowling

360 = degrees of a circle

555 = number given to Hitler's membership into the Nazi party, though it is said he was actually the 55th member but the leadership wanted to give the impression that there were many members.

666 = number of the biblical beast or anti-Christ.

888 = number attributed to Jesus.

1000 = millennium, end time, time of change

etc... (Different cultures may reference higher number values in expressions that may be construed to mean "much" or many... and thus mean the third value with respect to brain pattern usage. Various other obscure references may exist and some no doubt have been lost to history because of the loss of a language and/or culture.)

Source for several of the references: "Number Symbolism." Encyclopædia Britannica Ultimate Reference Suite, 2013. (And other Britannica articles concerning the anatomical references.)