Let's Talk Peace III
http://cenocracy.org
---
Let's face it, humanity has a lousy definition of peace.
Unless humanity can be impressed upon to reassess its definition thereof, as an item of physiologically-based language that is exhibiting a consistency suggesting an environmental influence undergoing decay, the definition and approaches towards establishing relative peace throughout the world may be a lost cause, and all the Nobel Peace Prizes in the world... even if given to every single person, will not be of the value it thinks to interject into the world's considerations thereof. We need to take a different approach in our Peace initiatives.
3 main components (Triad) of the Biosphere:
RNA~ DNA~ Proteins



RNA: --- Predominantly single stranded

3 main types: Messenger- Ribosomal- Transfer
(mRNA-rRNA-tRNA)

3 triplets terminate protein synthesis: UAG- UAA- UGA

(3-site tRNA model is well established, 2-site model is dead)


---

DNA --- Predominantly double-stranded (Double Helix)


3 polymerases (enzymes): DNA Polymerase I- II- III
3-patterned (triplet) codon system


---

Proteins: --- Predominant triple conformation structure

3 single polypeptide forms: Primary~ Secondary~ Tertiary
3 secondary structure regions: Alpha helix~ Beta sheet~ Looped
3 tertiary structure domains: Alpha helix~ Beta sheet~ Combination of both

(1 multiple polypeptide structure called Quaternary, is a composite)
3-stranded Collagen is considered most abundant protein in our body (Triple Helix)
3 component nucleotide: Nitrogenous base~ Pentose sugar~ Phosphate group
***Tribonucleic acid (TNA), consisting of a hemiactal backbone of surface-anchored phosophotrioses, has been proposed as a hypothetical precursor to RNA and DNA, by G. Wachtershauser, 1988.
3 Billion base pairs: common reference to the human genome
***1 trillion~ More than a trillion~ 100 trillion: 3 common references to quantity of cells in the human body
3 cell membrane theories: (1st) Monoloyer~ (2nd) Bi-lipid layer~ (3rd) Trilaminar
***Stanley Miller's 3 (gases) to 1 (water) ratio for Chemical Evolution: Methane~ Hydrogen~ Ammonia + water
3 distinct Cytoskeleton components: Microtubules~ Actin Filaments~ Intermediate Filament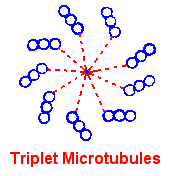 3 primary cellular energy molecules: AMP~ ADP~ ATP (ATP is primary energy source)
3 groups of basic cells: Eubacteria~ Archaebacteria~ Eukaryotes
3 germinal layers: Endoderm~ Mesoderm~ Ectoderm
3 sequenced organism development: "Monoploblastic"~ Diploblastic~ Triploblastic
3 ionized forms of amino acids: Nonpolar~ Polar~ Electrically charged
3-lettered abbreviations used for amino acids
The RNA Codons:
U
C
A
G
U
UUU Phenylalanine (Phe)
UCU Serine (Ser)
UAU Tyrosine (Tyr)
UGU Cysteine (Cys)
U
UUC Phe
UCC Ser
UAC Tyr
UGC Cys
C
UUA Leucine (Leu)
UCA Ser
UAA STOP
UGA STOP
A
UUG Leu
UCG Ser
UAG STOP
UGG Tryptophan (Trp)
G
C
CUU Leucine (Leu)
CCU Proline (Pro)
CAU Histidine (His)
CGU Arginine (Arg)
U
CUC Leu
CCU Pro
CAC His
CGC Arg
C
CUA Leu
CCA Pro
CAA Glutamine (Gln)
CGA Arg
A
CUG Leu
CCG Pro
CAG Gln
CGG Arg
G
A
AUU Isoleucine (Ile)
ACU Threonine (Thr)
AAU Asparagine (Asn)
AGU Serine (Ser)
U
AUC Ile
ACC Thr
AAC Asn
AGC Ser
C
AUA Ile
ACA Thr
AAA Lysine (Lys)
AGA Arginine (Arg)
A
AUG Methionine (Met) or
START
ACG Thr
AAG Lys
AGG Arg
G
G
GUU Valine Val
GCU Alanine (Ala)
GAU Aspartic acid (Asp)
GGU Glycine (Gly)
U
GUC (Val)
GCC Ala
GAC Asp
GGC Gly
C
GUA Val
GCA Ala
GAA Glutamic acid (Glu)
GGA Gly
A
GUG Val
GCG Ala
GAG Glu
GGG Gly
G
---
The Genetic Code (DNA):
These are the codons as they are read on the (5' to 3') strand of DNA. Except that the nucleotide thymidine (T) is found in place of uridine (U), they read the same as RNA codons. However, mRNA is actually synthesized using the (3' to 5') as the template.
(Some might refer to this table as the Rosetta Stone of life.)
The DNA Codons:
TTT
Phe
TCT
Ser
TAT
Tyr
TGT
Cys
TTC
Phe
TCC
Ser
TAC
Tyr
TGC
Cys
TTA
Leu
TCA
Ser
TAA
STOP
TGA
STOP
TTG
Leu
TCG
Ser
TAG
STOP
TGG
Trp
CTT
Leu
CCT
Pro
CAT
His
CGT
Arg
CTC
Leu
CCC
Pro
CAC
His
CGC
Arg
CTA
Leu
CCA
Pro
CAA
Gln
CGA
Arg
CTG
Leu
CCG
Pro
CAG
Gln
CGG
Arg
ATT
Ile
ACT
Thr
AAT
Asn
AGT
Ser
ATC
Ile
ACC
Thr
AAC
Asn
AGC
Ser
ATA
Ile
ACA
Thr
AAA
Lys
AGA
Arg
ATG
Met*** (START)
ACG
Thr
AAG
Lys
AGG
Arg
GTT
Val
GCT
Ala
GAT
Asp
GGT
Gly
GTC
Val
GCC
Ala
GAC
Asp
GGC
Gly
GTA
Val
GCA
Ala
GAA
Glu
GGA
Gly
GTG
Val
GCG
Ala
GAG
Glu
GGG
Gly
***When within gene; at beginning of gene, ATG signals start of translation.
The genetic code is almost universal. The same codons are assigned to the same amino acids and to the same START and STOP signals in the vast majority of genes in animals, plants, and microorganisms. However, some exceptions have been found. Most of these involve assigning one or two of the three STOP codons to an amino acid instead.
Mitochondrial genes: When mitochondrial mRNA from animals or microorganisms (but not from plants) is placed in a test tube with the cytosolic protein-synthesizing machinery (amino acids, enzymes, tRNAs, ribosomes) it fails to be translated into a protein. The reason for this is that these mitochondria use UGA to encode Tryptophan (Trp) rather than as a chain terminator. When translated by cytosolic machinery, synthesis stops where Trp should have been inserted.
In addition, most:
Animal mitochondria use AUA for methionine not isoleucine and
All vertebrate mitochondria use AGA and AGG as chain terminators.
Yeast mitochondria assign all codons beginning with CU to threonine instead of leucine (which is still encoded by UUA and UUG as it is in cytosolic mRNA).
Plant mitochondria use the universal code, and this has permitted angiosperms to transfer mitochondrial genes to their nucleus with great ease.
The above table information and accompanying comments are originally adapted from:
--- The Genetic Code ---
http://www.ultranet.com/~jkimball/BiologyPages/C/Codons.html
---
Note: some of the following examples are already listed on the anatomy collection of Dr. McNulty and his assistant compilers, but 3 types of molecular bond: Covalent~ Ionic~ Polar covalent

3 isomerism types:

Structural (Ethyl alcohol)~
Geometric (Maleic acid)~
Optical (L-Lactic acid)

3 hydrocarbon chain types: Straight (Propane)~ Branched (Isobutane)~ Circular (Cyclopropane)
3 main fatty acid categories: Saturated~ Monounsaturated~ Polyunsaturated

*** Omega-3 family of Essential Fatty Acids is said to be needed for optimum health

3 basic chemical reaction substances: Acids~ Bases~ Salts

3 layers of Arteries, Capillaries, Veins:

Connective tissue~ Muscle~ Endothelium (Tunica intima~ Tunica media~ Tunica adventia)

3 dietary monosaccharides well absorbed: Glucose~ Galactose~ Fructose
3-patterned general formula for carbohydrates: Cx(H20)y

3 metabolized for energy needs: Carbohydrates~ Fats~ Proteins/Triglycerides are the main storage forms of fatty acids
3 flow pattern types of Pulmonary Circulation:

Zone A (Alveolar pressure exceeds intravascular pressure)~
Zone B (Alveolar pressure intermediate between arteriolar and venular pressures)~
Zone C (Intravascular pressure exceeds alveolar pressure)

3 classes of Amines (ammonia compounds):

Primary, NH2R ~
Secondary, NHR2 ~
Tertiary, NR3

3 classes of Neurons: Motor (Monopolar)~ Sensory (Bipolar)~ lnter (Multipolar)
3 main cellular components of Blood: Red blood cells~ White blood cells~ Platelets
3 blood plasma protein groups: Globulin~ Albumin~ Fibrinogen
3 white blood cell (leucocyte) groups: Granulocyte~ Lymphocyte~ Monocyte
3rd corpuscle: alternate name for platelets

*** Band 3 protein is complex molecule in red blood cell (erythrocyte) membranes
3 letters (and combinations thereof) used for blood typing: (A~ B~ 0)
3 main blood channels: Veins~ Arteries~ Capillaries
3 interferon types: (White blood cells)~ (Fibroblasts-connective tissue)~ (Lymphocytes)
3 gastrointestinal tract wall layers: Epithelium~ Lamina propria~ Muscularis mucosae
3 gastric mucosa regions: Cardiac glandular~ Oxynti glandular~ Pyloric glandular
3 parts of the small intestine: Duodenum~ Jejunum~ Ileum
3 types of (digestive tract) epithelial cell junctions: Tight~ Desmosome~ Gap

3 carbon-to-carbon bonds:

Single (Ethene) ~
Double(Ethylene) ~
Triple (Acetylene)

3 genotypes: AA (homozygous dominant)~ aa (homozygous recessive)~ Aa (heterozygous)

*** Since the fertile life of the human egg cell lasts at most one day and that of the human sperm at most two days, there is a period of about three days during which copulation can result in conception (the day when the egg is fertile and the two preceding days).

*** Generally speaking, the egg traverses the fallopian tube in about 3 days; Sperm can travel at a rate of 3 inches per hour; A spermagonium gives rise to 3 active cells and 1 resting cell.

3 stages of labor: Dilation of the cervix~ Delivery of the baby~ Delivery of the placenta
3 days after birth is a baby's customary first check-up
3 months old is when most babies begin shedding tears.
3 stages to ovarian follicle development
3 layers to female uterus: Perimetrium ~ Myometrium ~ Endometrium
3 embryonic somites: Dermatomes ~ Myotomes ~ Sclerotomes
3 membranes surround embryo: Amnion~Chorion~ Allantois
3 expansions of neural tube produce: Forebrain ~ Midbrain ~ Hindbrain
3 successive brain divisions: Hind/Midbrain ~ Limbic system ~ Cerebral cortex
3 brain and spinal cord layers: Pia Mater~ Dura Mater~ Arachnoid process

3 Spinal Cord white-matter columns:

Dorsal Funiculus ~
Lateral Funiculus ~
Ventral Funiculus

3 pounds: common reference to the weight of the human brain
3 pints: common reference to the capacity of the human brain
3 stages of brain development: Reptilian ~ Mammalian ~ Neomammalian
3 lobes on each Cerebellum hemisphere: Blocculondodular ~ Anterior ~ Posterior
3 divisions of autonomic neurons: Sympathetic ~ Parasympathetic ~ Enteric
3 major classes of endogenous opioid peptides: Enkephalins~ Endorphins~ Dynorphin
3 basic epithelial cell shapes: Squamous ~ Cuboidal ~ Columnar
3 heart layers: Endocardium ~ Myocardium ~ Pericardium
3 forms of stroke: Embolic ~ Hemorrhagic ~ Thrombotic
3 Catabolism stages: Glycolysis ~ Conversion of Pyruvic acid into acetyl CoA ~ Krebs Cycle
3 important nitrogenous waste compounds: Ammonia~ Urea~ Uric acid
3 bands of the Colon: Teniae mesocolica~ Teniae libera~ Teniae omentalis
3 histochemical types of skeletal muscle fibers: Type I~ Type IIB~ Type IIA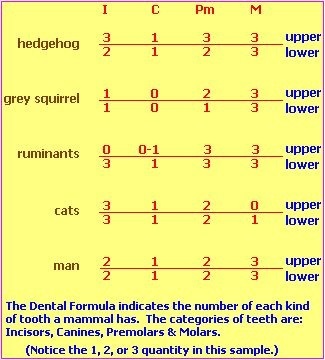 3 types of taste bud groups on papillae: Circumvallate~ Foliate~ Fungiform
3 molars, 2 bi-cuspids,1 cuspid on both sides and both lower/upper jaws
3 tooth parts: Crown~ Neck~ Root
3 bud parts: Enamel organ~ Dental papilla~ Dental Sac
3 surface divisions of tooth: Lingual - Facial - Proximal

***Triangular shape to canine tooth roots in cross section

3 main types of malocclusions: Overbite ~ Underbite ~ Crowding
3 (1st, 2nd, 3rd) lower & upper jaw molars
3rd molar is singled out to be called the wisdom tooth.
3 main stages to periodontal (Gum) disease: Gingivitis ~ Periodontitis ~ Loss of bone
3 main kinds of periodontal diseases: Gingivitis ~ Periodontitis ~ Vincent's Infection
3 most common artificial teeth types: Bridges ~ Partial dentures ~ Full dentures

3 muscle types: Striated ~ Cardiac ~ Smooth
3 muscle divisions: Head ~ Belly ~ Tail
3 gluteus muscles: Maximus ~ Medius ~ Minimus
3 muscle fiber arrangements: Unipennate ~ Bipennate ~ Multipennate
3 masseter muscle parts: Superficial ~ Intermediate ~ Deep
3 muscle heads: Biceps ~ Triceps ~ Quadriceps ("Quadricep" refers to Musculus Triceps Surae, the Plantaris is counted separately) {another 3:1 ratio}

3 muscle (contrasts) definitions: Superior/Inferior~ Major/Minor~ Posterior/Anterior
3 lateral vertebral muscles: Scalenus anterior~ Scalenus medius~ Scalenus posterior
3 peroneal/fibular muscles: Peroneus brevis~ Peroneus longus~ Peroneus tertius
3 general muscle attachment types: Superficial fascia ~ Deep fascia ~ Subserous facia
3 eyelid muscles: Levator palpebrae superioris ~ Obicularis oculi ~ Corrugator supercili
3 parts of the eye: Iris~ Cornea~ Pupil
3 orbicular muscle portions: Pars orbitlis ~ Pars palpebralis ~ Pars lacrimalis
3 color blindness types: Protanopia ~ Deuteranopia ~ Tritanopia
3 eyeball tissue layers: Sclera/Cornea ~ Uveal Tract ~ Retina
3 preotic myotomes of the eyes: Oculomotor ~ Trochlear ~ Abducens
3 eyeglass types: Monofocals ~ Bifocals ~ Trifocals
3 extrinsic straight muscles (eyes): Lateralis rectus - Medialis rectus - Superior rectus
3 parts of the eye: Iris - Cornea - Pupil
3 color blindness types: Protanopia - Deuteranopia - Tritanopia
3 eyeball tissue layers: Sclera/Cornea - Uveal Tract - Retina
3 "convenient" pelvic fascia divisions: Piriformis ~ Obturator ~ Superior

3 columns (with 3 subdivisions) of the erector spinne (sacrospinalis) muscle mass:

(Lateral column): Ilicostalis lumborum~ Iliocostalis thoracis~ Ilicostalis cervicis;

(Intermediate column): Longissimus thoracis~ Longissimus cervicics~ Longissimus capitis;

(Medial column): Spinalis thoracis~ Spinalis cervicis~ Spinalis caphis

3 divisions to the transversospinalis muscle group:

(1) Semispinalis thoracis~ Semispinalis Cervicis~ Semispinalis capitis
(2) Multifidus muscles
(3) Rotatores thoracis~ Rotatores cervicis~ Rotatores lumborum

*** The human knee performs one kind of movement (flexion/extension)~ The ankle performs two kinds of movement (flexion/extension & inversion/eversion)~ The ball-and-socket joints, such as the hip, allow three degrees of freedom.

3 between-finger triangular spaces for each hand
3 stomach wall fiber layers: Longitudinal~ Circular~ Oblique
3 layers of dead cells make up a hair shaft: Medulla~ Cortex~ Cuticle

Triphasic sexual response nature:

Female): Desire~ Lubrication & Swelling~ Orgasm

(Male): Desire~ Erection~ Ejaculation

3 stages of sexual behavior by sex "experts": Foreplay~ Loveplay~ Afterplay
3 immature "standards" of sexual behavior: Length of penis~ Frequency of sex~ Number of orgasms
3-part phrase of insecure, barbaric, egocentric men: Wam - Bam - Thank you ma'am
3-part motto attributed to British Special Air Services (SAS) Regiment:
Get in- Get it done- Get out

3 functions of human skeleton: Support~ Protects organs~ Movement (with muscles)
3 letters (and combinations thereof) used for blood typing: A - B - 0
3 main blood channels: Veins - Arteries - Capillaries
3 days after birth is a baby's customary first check-up
3 months old is when most babies begin shedding tears
3 amino acids associated with organisms having a thyroid gland: Monoiodotyrosine - Diiodotyrosine - Triiodothyronine
3 pounds: common reference to the weight of the human brain
3 stages of brain development: Reptilian - Mammalian - Neomammalian
3 skin layers: Epidermis - Dermis - Subcutaneous Tissue
3 burn degrees: 1st degree burn - 2nd degree burn - 3rd degree burn
3 trimester divisions in pregnancy
3 layers to female uterus: Perimetrium - Myometrium - Endometrium
3 basic fingerprint types: Loop - Whorl - Arch
3 basic feather types: Contour - Down - Filoplumes
3 parts of the small intestine: Duodenum - Jejunum - Ileum
3 bones of the pelvic girdle: Ilium - Pubis - Ischium
3 animal reproduction types: Oviparous - Viviparous - Ovoviviparous
3 animal feeding types: Herbivore - Carnivore - Omnivore
3 main body parts to Arthropods: Head - Thorax - Abdomen
3 segments of insect thorax: Prothorax - Mesothorox - Metathorax
3 eyelids in the Tuatara, Crocodilians and most birds
3 groups of Ocean life: Plankton - Nekton - Benthos
3 muscles of the human nose: Procerus - Nasalis - Depressor septi
3 elevations (Concha) in the olfactory portion of the nose
3 bones in the nose: Inferior Meatus - Middle Meatus - Superior Turbinate
3 stages of bone development: Membranes - Cartilaginous - Osseous
3 types of cartilage: Fibro - Elastic - Hyaline
3 possible bone formation sites: Intramembranous - Endochondral - Heterotopic
3 bone layers: Concentric - Circumferential - Interstial
3 bone cell types: Osteoblasts - Osteocytes - Osteoclasts
3 joint categories: Fibrous - Cartiloginous - Synovial (Immovable - Partly movable - Freely movable)
3 stage development for some insects: Larva - Pupa - Imago
3rd and usually largest vein of an insect's wing is called the Radius

3 plant families of trees with the most significant (food bearing) attractive flowers: Magnoliaceae - Rosoceae - Leguminosae

3 "feeding" hairs on Venus fly trap lobes trigger closing
3 flagella on certain protozoans (Tritrichomonas)
3 sets of chromosomes in humans (presently) produces mutations such as Down's syndrome

3 sets of chromosomes in plants produces humanity's single most important food sources such as maize, wheat, barley, oats, rice and other cereals (Monocotyledonea plants)

3 photoperiodic plant types: Long day - Day-neutral - Short day
---
— End of page 3 —
(We've made a few preliminary steps in this journey)
---
Date of Origination:
Wednesday, 14-Dec-2016... 06:19 AM
Date of initial posting:
Wednesday, 14-Dec-2016... 10:45 AM
Updated posting:
Friday, 16-Dec-2016... 10:53 AM