Let's Talk Seriously About Peace
http://cenocracy.org
---
---
---
Let's face it, humanity has a lousy definition, accompanying practice, and analysis of peace.
---
List of Pages in this Series


Here is an example of the typical approach to speaking "seriously" about peace in yet another dichtomous fashion... as will be illustrated throughout the pages in this series, one of which is the standard "peace/war" dichotomy. All pursuers of (their definition of) "peace" routinely use or represent some two-patterned formula of opposites. The banner-ofthree stands in the background of two on stage whose comments from one of them represents various patterns-of-two. It is a status-quo hypocrisy shared by all governments because of the stage of human cognitive development in this time and place of history. The human brain has not progressed enough... and may not get a chance to do so... to effectively create a world environment of peace which includes the need for the basic needs of everyone to be met on an equal basis. Such an equality is far in the future as expressed by the presence of three men on the banner but no identical number of women were included. Surely peace can not be achieved unless all women the world over come to an agreement amongst themselves and amongst men as well without being subjected to male dominant themes to make them subservient.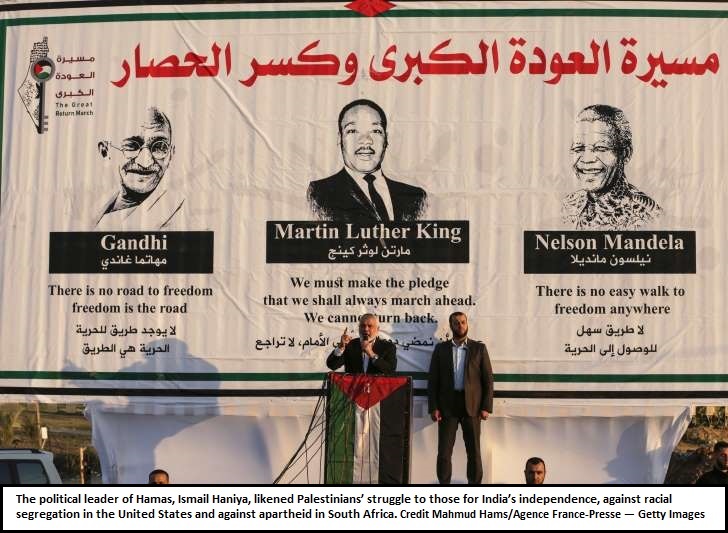 New York Times Article
by David M. Halbfinger, April 15, 2018

GAZA CITY — It was a striking tableau: Ismail Haniya, the political leader of Hamas, the Islamic militant group that has tried suicide bombs, rockets and attack tunnels in its long struggle with Israel, standing before portraits of the giants of nonviolent resistance — Mahatma Gandhi, Martin Luther King Jr. and Nelson Mandela.

Urging on Palestinians who have staged a new campaign of protests along the fence separating Gaza from Israel, Mr. Haniya likened their struggle to those for India's independence, against racial segregation and discrimination in the United States, and against apartheid in South Africa.

"This blessed protest is national, peaceful, popular and civilized," he said.

Minutes later, though, he called the same protests "a deadly weapon" with which to achieve the Palestinians' goals, saying that guns, rockets and attack tunnels — the more familiar weapons that have kept Hamas listed as a terrorist group by the United States, European Union and Israel — remained at hand if needed.

Mixed messages have abounded during the so-called Great Return March, the grass-roots campaign that is now in its third week and seeks to highlight hardship in Gaza and demand the right to return to lands in Israel. While organizers promised peaceful disobedience of Israel's orders to stay far from the fence, participants have thrown Molotov cocktails and other explosives, even attaching one to a kite.

And while Mr. Haniya and other Gaza leaders espoused Palestinian unity, and flew only the national flag, he also, without naming them, accused the Ramallah-based Palestinian Authority and its president, Mahmoud Abbas, leader of archrival Fatah, of presiding over a corrupt era of "humiliation, negotiations and security coordination" with Israel.




Hamas Sees Gaza Protests as Peaceful — and as a 'Deadly Weapon'
---
Date of Origination:
Wednesday, 21-Dec-2016... 08:44 AM
Date of initial posting:
Wednesday, 21-Dec-2016... 10:37 AM
Updated Posting:
Sunday, 15th-April-2018... 10:39 AM